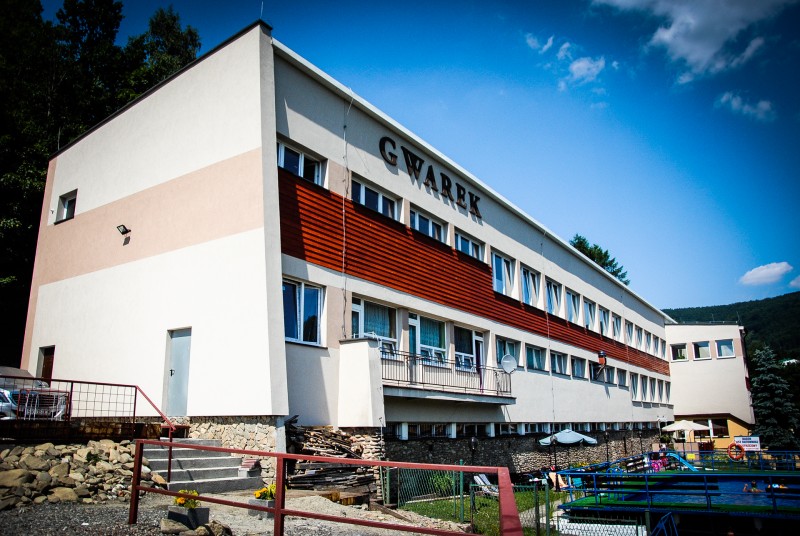 Recreation and Training Center "GWAREK"
ul. Wczasowa 49
43-450 Ustroń
Location
You can find more information about the Leisure Centre at www.gwarek.ustron.pl.
Accessing by public transport
Options for public transport are pretty rich, depending on where you will be coming from. If you airport of choice is Katowice Intl (IATA code: KTW) or Kraków Balice (IATA code: KRK), then you should take a bus to Katowice city, transfer to a train to "Wisła Głębce" and get off at "Ustroń Polana" station. The last section, 2.0 km you can travel by foot or pick a taxi.
Accessing by car
There are plenty of options to reach Ustroń using fast roads.
If you are entering Poland from Germany then after crossing the border you should first try to reach Wrocław (in German known as Breslau), which is well connected with Berlin and Dresden by highways. From Wrocław you should pick A4 highway and head towards Gliwice (that section of A4 is paid road - you pick ticket at toll gates near Wrocław and pay at toll gates near Gliwice). Then you switch to A1 highway towards Gorzyczki/Ostrava at Gliwice Sośnica intersection. From there you go to Żory junction where you exit (highway from Gliwice to Żory is free of charge). From Żory you should head towards road 81 - direction Ustroń/Wisła. In Skoczów road 81 changes to 941 where you continue in direction of Ustroń.
If you travel from Czech Republic then the best option is heading towards Český Těšín probably using D1 highway then changing to 48/D48. After crossing the border road 48 changes to S52. In Skoczów you exit towards Ustroń/Wisła, using the road 941.
If you travel from Slovakia, then in most cases you should head towards Žilina then Čadca. From there you have two options, either you continue your journey through Czech Republic through Český Těšín or you head towards Skalité/Zwardoń border crossing where you follow S1/1 road to Bielsko-Biała. There you continue by road S52 to Skoczów where you exit to road 941, direction Ustroń/Wisła.
If you enter Poland from Eastern or Northern Europe countries you should head towards Katowice or Kraków. From there you should head to Bielsko Biała (from Katowice road 1, from Kraków road 52 or A4/S1). In Bielsko Biała you change to S52 which will lead you to Skoczów where you exit to road 941, direction Ustroń/Wisła.