---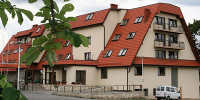 event venue
"Orle Gniazdo" ("The Eagle's Nest") Leisure Centre
20, Orle Gniazdo St.
Hucisko, 42-421 Włodowice, Poland
coordinates: 50.58743 N, 19.52164 E

The point indicates the exact location of the hotel.
Click here to see the full-screen map.

The forest-surrounded "Eagle's Nest" Leisure Centre owes it's name to proximity of middle age castles and fortifacions. Stay here becomes truly exciting mainly due to numerous attractions of the Cracow-Czestochowa Jura upland. Hotel offers up to 180 beds in equal, high quality rooms the Linux Autumn attendees.

The detailed presentation with photos and 3D panoramas you can find at orlegniazdo.pl.
accessing by public transport
The best airport to arrival to is the Katowice Intl (IATA code: KTW). The taxi trip from airport to hotel shouldn't cost more than 35-40 €, but remember to fix the certain price with driver yet before you get in the cab.
If you won't use the taxi, you must: take a bus to Katowice city, change to train to Zawiercie and beeing in Zawiercie catch the local bus to Hucisko. It's not too far but you can spend a lot of time for changes.
The local bus operator's name is "Mati-Trans". It's schedule is at this page. Take the "Zdów" destination. Get off the bus on penultimate stop called "Hucisko" (be careful, not "Hucisko I"). The last section, 1.3 km, step on foot. It's flat terrain there, it shouldn't be hard if you carry not too heavy luggage.
accessing by car
Firstly, find Zawiercie city and Szczekociny town on the map. These two are linked by the 78 primary road. Next localize Kroczyce village between it.
If you reach it, turn the north to 792 secondary, destination Żarki, Podlesice. Immediately after exit keep the left side. After six kilometers from Kroczyce pass the railway viaduct and after it turn right, destination Bliżyce. Now, go slightly uphill and after 800 meters turn right again, opposite the high green house with grocery and bar. You're on the Orle Gniazdo street, initially asphalted, later ground, leading thru the woods to our hotel.
Feel free to download GPX file containing section between 78 primary road (Kroczyce) and hotel from here. It might be helpful.
---


---